Service - What We Do Different
We aim to provide a local, friendly and reliable calibration, Maintenance and Repair Service to all our customers.
We  continuously  talk  to  our  customers  and  have  addressed  the  major  issues  which customers experienced from other service providers and have focused on ensuring that those issues are not re-lived with us;
1.  Call  Centres –  WE DON'T HAVE ONE!  Experience  tells  us  that  customers  do  not  appreciate  call  centres  and automated call logging etc.. They would much rather speak to a regular person and develop a relationship with their supplier. When you call us, you get through to a human being who can help you.
2.  The inability to contact an engineer direct – If you want to contact the engineer, their numbers are made available to you, so you can either call them directly or via the office. Whilst it is important that we have your call logged, we understand that clients have their preferences with how they place their call.
3.  Engineers not turning up when they were promised –Serving the customer to the best of our ability is always our objective. Our quality is under constant review and we aim to 'delight the customer, and deliver our promise'. We have a process when logging calls that the engineer deals with you directly to book a time in, so we never over promise, we just deliver.
4.  Site Knowledge - Our engineers get to know you and your site. We base our business on building relationships with our customers. We will always do everything we can do not send you an engineer that doesn't know your site. We would never have just one engineer looking after a contract – we will always ensure that more than one engineer knows your site and your requirements.
5. Health & Safety – We take H & S very seriously. Al our engineers are put through in house training as well as carrying out customer site Inductions. When taking on a new contract, we always ensure the engineers looking after you are inducted prior to commencement of the contract to ensure no delays when you need us. Likewise, if your site requires it – a full site familiarisation is carried out to ensure engineers are aware of asset locations.
Our Emergency Call Logging Process.
You can either Call us on 01684 561002 and log the call with any one of us here, or use the online call logging facility. (which is what we use if you call us).
When logging a call, we will ask you for the serial number, or Customer asset number, to ensure we know what we are coming out to. This helps us send the correct equipment and weights to ensure we can attend to your call out effectively.
Depending on the urgency of your requirement, an engineer will be assigned to your call out.
The relevant engineer will attend site and investigate / repair / quote spares as required. (Quotes for spares carried on the vans can be done by the engineer in person or by the office – which ever suits the client best).
If a spare is required that is not carried on the van, no further call out is chargeable, but the hourly rate is payable to include travelling time.
On completion of the job, you will be asked to sign a job sheet. This will have the start / finish time on it which will be used to raise the invoice.
All our Weight Sets are calibrated to UKAS standard and traceable to National Standard.
All our calibrations are done to the UK Weighing Federation code of practice and follow our ISO9001/2015 quality procedures. All certificates carry the ISO9001/2015 mark.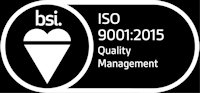 All of our work is carried out to strict processes in line with our ISO9001:2015 Quality Manual and, as  a result, the outcome is always a happy customer!
We are very Proud to be Active Members of the UK Weighing Federation - Supporting best practice for all Industry