We have two products we can use for Continuous Belt Weighing, and the decision will always lie with the customer, making an informed decision following discussions with us on the features and benefits of both products.
Continuous totalisation and flow control with the eNod4-B
Positive Weighing, in partnership with Scaime, have developed the eNod4-B, a powerful and scalable weighing controller, equipped with an application for belt scales.
Continuous totaliser functions:
Determination of belt speed and integration of weight by unit of length
Flow calculation and totalisation of quantity of product being conveyed on the belt
Load cycle management on attainment of a totalised weight setpoint
Belt doser functions:
Supervision of hourly flow according to the programmed target, by PID adjustment
Function for automatic adjustment of PID parameters by self-learning
This product is highly configurable and exceptionally accurate.
"E-BELT": Firmware for 3590E/CPWE Indicators for the control and weighing of continuous belt weighers
Indicator Firmware for the measurement/integration of the weight, flow of material transitioning on the weighing belt, with memorisation of the quantity of dosed material; the ability to adjust the flow through the 16 bit analogue output and PID control. With the option of remote management of the instrument, through Sysway or Modbus RTU protocols, or Profibus through external optional interface.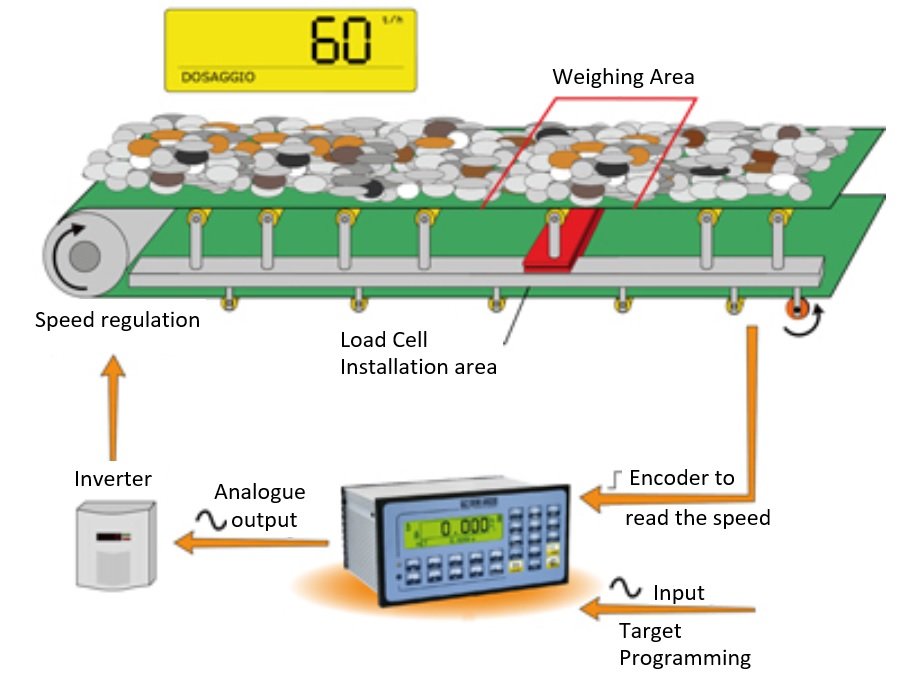 CALL US ON 01684 561002 IF YOU WOULD LIKE FURTHER INFORMATION ON OUR BELT WEIGHING PRODUCTS