APPLICATIONS FOR LOADING ONTO THE 3590 TOUCHSCREEN, 3590 STANDARD AND CPW RANGES OF INDICATORS.

These Applications are downloadable onto the indicator at any time, it does not have to be at the time of purchase. Making your 3590 Indicator purchase, totally versatile, with the ability to change 'roles' if desired.
There is a cost for the 'APPS' and this cost is very much dependent on the amount of configuration required as they are very customisable to specific client requirements.
Call us for more information on 01684 561002
"AF04GT": APP FOR 3590 TOUCH SCREEN FOR STATISTICAL CHECKING OF PREPACKAGED GOODS
Specific software for production checking which includes all the main check functions, either in sample statistic mode or in complete statistic mode (as provided for by the directive N. 76/211/EEC). The touch screen interface shows in real time, every statistical data field with a chart or a numerical form. The simultaneous production lines check function allows up to 10 contemporaneous different articles check. CE-M approvable (OIML R-76 / EN 45501).
"AF05": APP FOR 3590E/CPWE INDICATORS FOR INDUSTRIAL PRICE COMPUTING
Advanced price computing function with an evolved article management allowing to indicate on the label important information regarding traceability, through the most requested codifications (EAN13, EAN128 bar codes, etc.). The flexibility of configuration together with the large memory storage space, allows to satisfy the most diverse requirements of use. Particularly suitable for the foodstuff industry. CE-M approvable (OIML R-76 / EN 45501).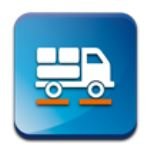 "AF08": APP FOR 3590E INDICATORS FOR WHEEL WEIGHING SYSTEMS WITH VARIOUS PADS
Suitable for creating wheel weighing and static axle weighing systems, or to weigh objects with various resting points. Ideal for weighing and calculating the centre of gravity coordinates of the vehicles, trucks, airplanes, containers, etc. Simultaneous display of the weight of each connected pad and of the sum. CE-M approved (OIML R-76 / EN 45501).
"E-BATCH1": APP FOR 3590E INDICATORS FOR SINGLE PRODUCT DOSAGE SYSTEMS
Software for 3590EXT and CPWE weight indicators, to create single product dosage systems in loading (useful for filling hoppers, silos or big bags, or guiding the operator in the manual dosages) and in unloading (useful for dividing the quantity of materials of equal weight or extract precise quantities from the silo, with management of the reloading). Database of 500 formulas.